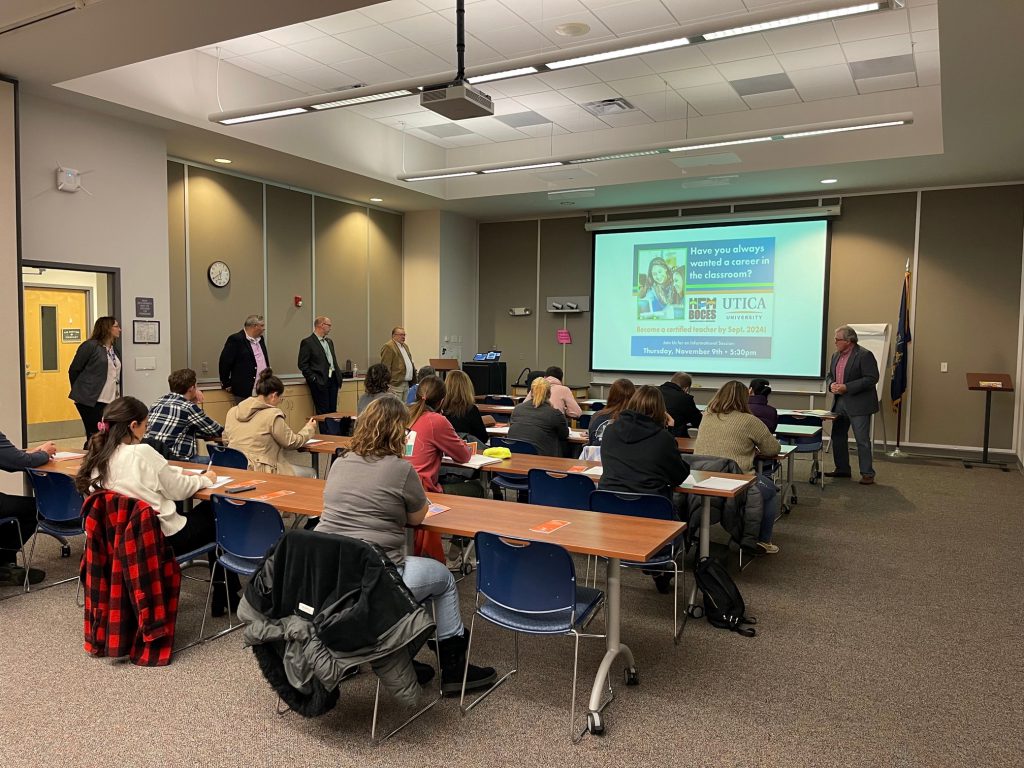 On Thursday, Nov. 9, HFM BOCES and Utica University teamed up to address the ongoing shortage of certified teachers by conducting an informational session at the BOCES main campus regarding the new 'Teacher Apprenticeship Program' designed for anyone interested in pursuing a fast-tracked teacher certification.
Through Utica University's unique program, local residents can earn a fast-tracked teacher certification in just eight months and become a teacher of record in a school district by September 2024. Individuals who have completed an undergraduate bachelor's degree (BA/BS) with a minimum 3.0 GPA in the following areas can apply to begin their master's in teaching that starts in January: Earth Science, Physics, Biology, Chemistry, Math, Spanish, French, English, Social Studies, and Technology.
The New York State Education Department (NYSED) Transition B program is designed to address the severe and ongoing shortage of certified teachers across the state. In response, NYSED has agreed to award qualified graduate teacher education candidates a Transitional B Teaching Certificate. According to Gov. Kathy Hochul's office, New York State is facing a steep teacher retirement cliff in the coming years. The state needs approximately 180,000 new teachers over the next decade to meet workforce needs.
The informational session provided an in-depth opportunity to learn more about this program which is scheduled to begin in January 2024. If you were not able to make the session, but would like to learn more, please contact John Rowe, Executive Director of Graduate Admissions at Utica University, by emailing jrowe@utica.edu.