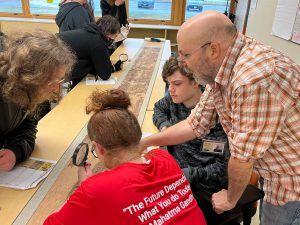 Students enrolled in Mandarin and Studio Art recently kicked off their picture book projects with the help of special guest David Besozzi. Mr. Besozzi is a retired social studies teacher and currently an adjunct professor in the Education Program at Clarkson University. He shared information about his education, career, and knowledge of the ancient Chinese scroll titled Qingming Shanghe Tu.
The Qingming Shanghe Tu depicts a bustling scene of people, animals, and buildings along the banks of a river during the Qingming Festival, which is a traditional Chinese holiday. It is widely considered to be one of the most important artworks in Chinese history.
Despite its popularity, there is only one surviving copy of the original Qingming Shanghe Tu, which is housed in the Palace Museum in Beijing. The scroll is over 5 meters long and 25 centimeters wide and contains over 500 people, 200 animals, and 28 boats, all painted with incredible detail and precision. This masterpiece of Chinese art continues to captivate and inspire people today, and is a testament to the rich cultural heritage of China.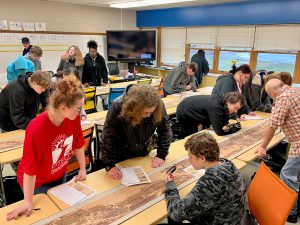 With the help of Mr. Besozzi, students looked for fixed scenes and characters and wrote down their guesses about behavior and identity based on prompt sheets. We thank Mr. Besozzi for the time he spent at PTECH inspiring our students!