More than 50 component school board members, district leaders, and the BOCES administrative team attended the HFM BOCES Annual Meeting held on April 5 at the Career & Technical Education Center at the HFM BOCES main campus.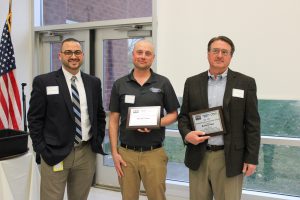 The meeting included special recognition for one area business. Brown's Ford was recognized for their outstanding business partnership and their commitment to advance the futures of HFM CTE students by Assistant Superintendent of Educational Services Jay DeTraglia. On hand to accept the award for Brown's Ford was both Derek and Seth Brown who were presented with plaques from HFM CTE Principal Mike DiMezza.
"CTE is truly fortunate to have Brown's Ford as a partner and advocate for students interested in the auto technology and auto body fields. Their impact is witnessed every day through their financial and advisory roles in what we do to prepare our students for the future," said DiMezza.
District Superintendent Dr. David Ziskin delivered his state of the BOCES address and gave an overview of next year's proposed BOCES budget.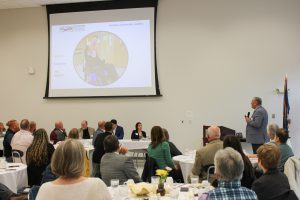 Later in the meeting, two candidates were introduced for election to the HFM BOCES Board of Education. The candidates include Dr. Paula Brown-Weinstock and Carolyn Wilcox.
Dr. Brown-Weinstock represents the Gloversville Enlarged School District. She is employed as a professor of social sciences at Fulton-Montgomery Community College where she has worked for over 20 years. She also served as a member of the Gloversville Board of Education for six years. Wilcox, who represents the Northville Central School District, is a 21-year United States Air Force veteran. She is self-employed as a stained glass artist and is the vice-president of the Northville Board of Education.
Component school district board members will have the opportunity to elect the candidates later this month. Earlier this year it was announced that board members John DeValve and Jean LaPorta will not seek re-election.
Guests at the annual meeting were treated to dinner and dessert which was prepared by CTE students enrolled in the Culinary Arts and Foundations of Food Services programs. The meal included prime rib, orange glazed cod, chicken francaise, vegetable strudel, spring risotto, and more.