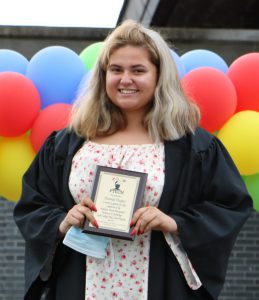 HFM PTECH alumna Heavenlee Vazquez has been named to IBM's newly formed P-TECH Alumni Advisory Board, joining four other graduates of P-TECH programs from across the country.
 As a key P-TECH business sponsor, IBM is launching the P-TECH Alumni Advisory Board whose members will serve to build the first-ever P-TECH Alumni Network, a support network for P-TECH alumni in the United States. According to IBM, the alumni selected for this board will be shaping the future direction of P-TECH alumni strategy, ensuring they receive the support and resources they need to be leaders in the workforce and community.
 The yearlong advisory board position, which comes with a $5,000 stipend, was open to those who earned their associate degree through a PTECH program in the past three years and are now either working full time or continuing their education. IBM was seeking PTECH alumni who are "passionate about community building" and who possess the "maturity and professionalism to lead their peers and engage with business and community leaders across the United States." 
Vazquez completed the HFM PTECH program in May of 2020, earning her associate degree in Health Studies from Fulton-Montgomery Community College last spring. She applied for the P-TECH Alumni Advisory Board in December of 2020 and was selected among the dozens of applicants for the interview round.
"We are thrilled Heavenlee has been appointed to this important role," HFM PTECH Principal Matt Davis said. "She was a wonderful contributor to our program and its culture while she was a student here, and we have no doubt she will make an important impact working in this capacity as well."
This spring, Vazquez will begin working with her fellow board members with the goal of beginning to recruit alumni into the association and launching programming in late spring.
"PTECH holds a special place in my heart. I talk about the program anytime and anywhere," Vazquez said.  "PTECH opened doors for me, and it continues to open doors for me. I want that for other students, too."
While at PTECH, Vazquez participated in many clubs in the program and her home school district in Gloversville. She now attends SUNY Oneonta as a political science and international studies major. Her ultimate goal is to work with children and families, perhaps as an immigration or defense attorney.
 In addition to her studies, Vazquez is a resident assistant in her dorm, works in the library and the mailroom, and fills in as a night host for other residence halls. She also makes time to participate in the school's Radio, Magazine, Newspaper and Political Science clubs, as well as the school's Honor Society. Despite all of her responsibilities, Vazquez is ready to dig in to working with the rest of the board members, who are alumni of P-TECHs in Colorado; Dallas, Texas; Chicago; and Newburgh, NY.
Vazquez said she believes she brings an important perspective to the board, having lived in urban and rural areas. "I'm from Brooklyn but lived upstate, too, so I feel like I can represent both. The situations in cities can be hard, but in the rural areas, it's hard in a different way."
Vazquez said she hopes the advisory board will help to connect alumni from P-TECH programs across the country. She also believes it's important for P-TECH to equip students with life skills they will need as adults.
"The HFM PTECH program in a lot of ways saved me. I was horrible in middle school, and I thought there was no hope for me then because of my life situation. PTECH was that equal opportunity for me," Vazquez said. 
In pursuing her bachelor's degree, Vazquez is taking part in the Equal Opportunity Program, which she sees as being similar to P-TECH in its efforts to support students in their education. It's something she sees as vital to students in helping them reach their goals. "Students don't stop needing support once they've gotten their associate degrees," Vazquez said.