Local high school graduates who completed the Engineering Technology program at the HFM Career and Technical Center say what they learned in CTE gave them an huge advantage in college and careers.
William Dickson, a 2018 Johnstown High School graduate, credits the Engineering Technology program for landing him his current position as a reliability engineer intern at Irving Tissue in Fort Edward. While still completing his senior year studying Electrical Engineering Technology and Nanotechnology at SUNY Polytechnic Institute, Dickson works full-time for the company.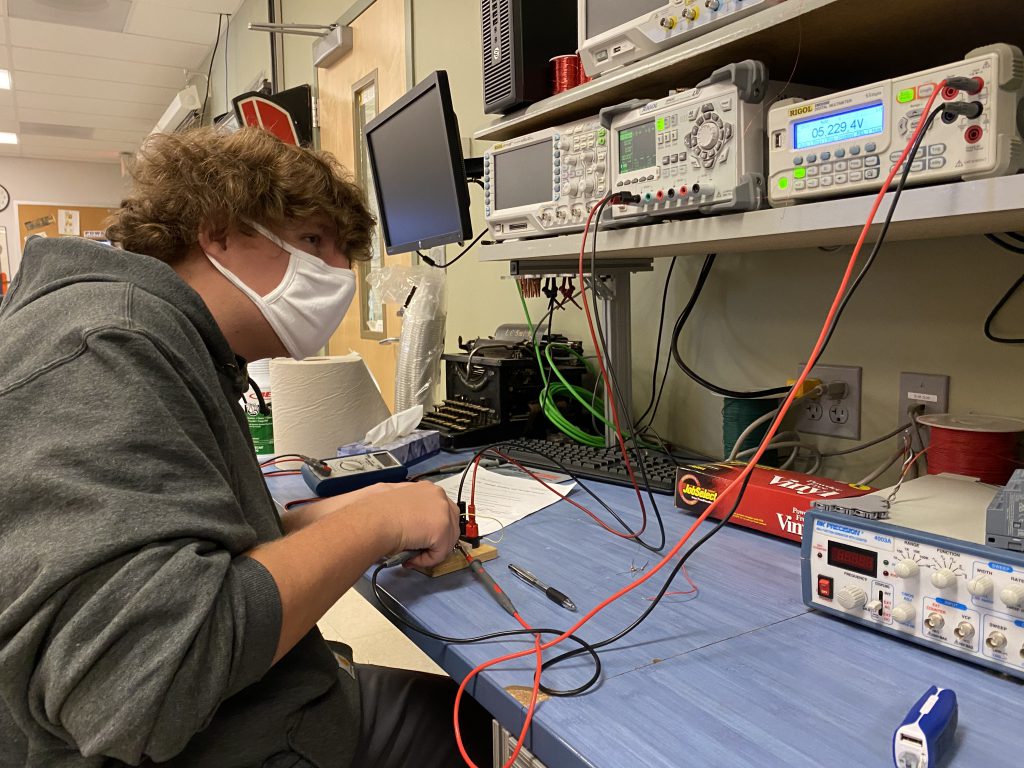 "I credit a big part of my success in engineering in college and in the workforce to the HFM program," Dickson said.
Despite the pandemic, Dickson said the engineering job market is alive and well and he predicts that's not going to change.
"I don't want to say you're guaranteed a high-paying job if you enter this field but if you take it seriously and work hard it pretty much is," Dickson said. "With this type of degree you have unlimited options. You can hit the ground running straight out of high school and join the workforce or you can get a jump start on college and get some pretty cool jobs before you even turn 21."
HFM Engineering Instructor Zachary Carrico says almost all of his students go on to some sort of secondary education following high school. Students who go on to earn a two-year associate degree can enter fields with median salaries approaching $60,000 a year. There's also good-paying job opportunities right out of high school but the pay scale increases with more education.
Katarina Keyser, a 2017 Amsterdam High School graduate, says the HFM Engineering Technology program gave her the confidence and background she needed to pursue her passion and desire to work in the aviation industry.
Now a senior studying aviation maintenance at Embry-Riddle Aeronautical University in Florida, Kayser has accepted a job with a major aircraft company.
"I have accepted a job offer working for Gulfstream Aerospace working as a certified aircraft technician in the spring, and I am excited to continue using the foundation Mr. Carrico and the Engineering Tech program have laid out for me," Keyser said.
According to follow-up surveys with the HFM Career and Technical Center class of 2019, about 72 percent of them enrolled in post-secondary studies. The surveys also show that 24 percent of students were employed and 4 percent entered the military.
Thomas Pawloski, an HFM Engineering Technology student and 2018 Mayfield Jr.-Sr. High School graduate, is now in the U.S. Navy and credits the program for his high score on the Armed Services Vocational Aptitude Battery, a military aptitude test used during recruitment.
"The Engineering program at HFM CTE impacted me by allowing me to have an excellent ASVAB score, which allowed me to obtain the position of sonar technician," Pawloski said.
All three graduates say that everyday in their jobs they use skills and concepts they first learned at HFM ranging from industrial automation, robotics and industrial safety practices, to computer aided drafting, technical drawing, physics and more.
The two-year HFM Engineering Technology program is a collaborative partnership with HFM BOCES, Fulton-Montgomery Community College, and the National Science Foundation. In addition to the labs at HFM, students in the program utilize FMCC's Center for Engineering and Technology laboratories, including the chip fabrication clean room, robotics lab, and electronics facility.