Students in the HFM BOCES Special Education classrooms at Mayfield Elementary school are hard at work this month executing a building-wide food drive for those in need in the community.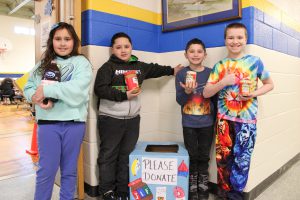 The idea of the food drive started when students were learning about Martin Luther King, Jr., and his 'I Have a Dream' speech. During their project, students were asked about their own dreams and what dreams they had for their community and the world. As many of the students' answers related to helping others, and with February being 'Kindness Month', an idea was born – why not hold a food drive to help those in need in the community.
The students and staff ran with the idea, and soon the whole school wanted to participate. With the help of their teachers, students put together a promotional flier outlining the details of the collection. Some also helped with the design and creation of food collection boxes which have been strategically placed around the school.
"I like that we are helping people in need because people deserve it," said one student. A fellow classmate spoke up and stated, "everyone deserves a happy life!"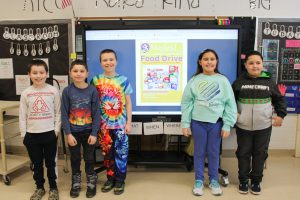 Karen Edwards, a teacher in the program, said she has enjoyed watching all the hard work the children have put into the project.
"The biggest thing for me is that they are gaining a sense of something larger than themselves," Edwards said. "They are becoming a part of this school community and the Mayfield community by doing this. I think this gives them a sense of belonging and giving back."
The students plan to collect non-perishable food items through February 16, at which time the students will transport the donated food to the Mayfield Central Presbyterian Church food pantry, located just down the street from the school.
"The best part about the food drive is that we are helping other people that don't have a lot of money to spend on food," said another student as he smiled.