Wyatt Frasier has always had a passion for cars, but said working on engines wasn't really for him.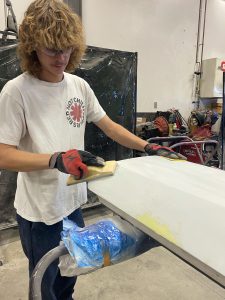 "I found out a while ago that I'm not much of a mechanical person, so I decided to try Auto Body here. I really enjoy it. It's been fun so far," Frasier said.
Frasier is one of the many students enrolled in the Auto Body Repair program at HFM BOCES this year. In the Auto Body program, Instructor John Ackermann teaches students to repair and refinish damaged vehicles using skills they've learned in class, like high-tech welding, plastic repair, and paint mixing and spraying. They'll also learn how to make damage appraisals, calculate repair costs and establish estimates.
Asked what he likes best about the Auto Body program, Frasier said the Career and Tech Center offers a hands-on learning environment, where students learn by doing, even if you make a mistake.
"If you happen to make a mistake, Mr. Ackermann uses it as a teaching moment," Frasier said.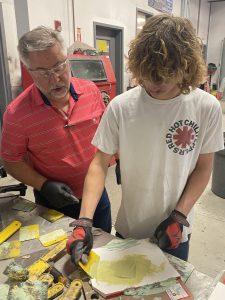 When he's not attending classes at the HFM Career and Technical Center, he can be found at Johnstown High School playing tuba in the school band. He also competes on the varsity golf team and made the cut for sectionals this past season.
Although just a junior, Frasier said he would like to pursue auto body as a career someday.
His advice to prospective Career and Tech  students is simple. "Just make sure to show up with a good mindset and be ready to work hard so you can be prepared for the future."
The Career and Technical Center at HFM BOCES offers 16 career programs to local high school juniors and seniors. For more information, please visit www.hfmboces.org/cte or call 518-736-4330.