The HFM School Library System (SLS) honored a number of educators at its 28th annual Celebration of School Libraries luncheon on Thursday, April 27.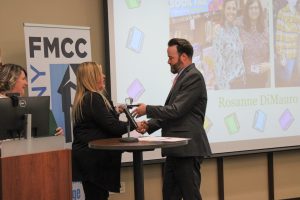 Gloversville Middle School Principal Andrew Jablonski was awarded with the library system's Administrator of the Year Award during the celebration which was held at the Allen House on the SUNY Fulton-Montgomery Community College campus. The Administrator of the Year Award is given to an individual who exhibits leadership in recognizing the library media center as an integral part of the total school program and has an active personal involvement in the program.
Jablonski was nominated for the award by Bobbie Lindsay, the Library Media Specialist at Gloversville Middle School and Adrienne Crandall, the Library Teaching Assistant.
The Ken Smith SLS Regional Award was also presented to Grace Frederes, a retired school librarian who worked part-time for the School Library System at HFM. The award  is given to individuals who exhibit leadership in recognizing the HFM School Library System is a central part of the total education program in the BOCES region.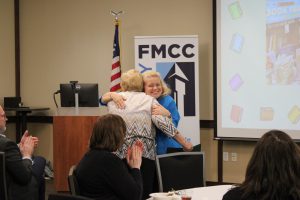 HFM BOCES School Library System Administrator Kristi Beedon said that Frederes has been a valuable resource to the HFM School Library System.
"For over 15 years Grace created original cataloging records for library books to add to the online catalog system. She created records for every school in the HFM area, so thousands of students have been able to search for books in the online catalog over the years thanks to Grace's dedication," said Beedon.
Also recognized were retirees Flo Glasser (Broadalbin-Perth), Mary VanPatten (Fort Plain), and Peggy Trzaskos (Edinburg). These individuals had not yet been formally recognized due to COVID-19 related guidelines that prohibited the annual Celebration of School Libraries luncheon from taking place.
Karen Johnson of Oppenheim-Ephratah-St.Johnsville Central School District was recognized as a 2023 retiree as of June 30th.
Roseanne DiMauro from Marie Curie Elementary School in Amsterdam was presented the Collaborating Teacher of the Year Award.
The luncheon was attended by teachers, librarians, and administrators from several districts within the HFM BOCES region.