Johnstown/HFM BOCES – When the COVID-19 pandemic set in, Brady Houser says so did the boredom for him, but he saw it as the perfect time to try something new in his life. As a lifelong fan of motorsports and NASCAR, he says he came up with an idea and took a chance.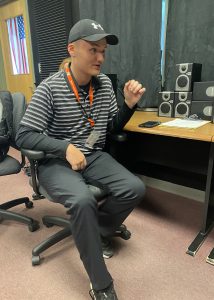 "I always wanted to start a racing podcast, so I reached out to NASCAR driver Landon Cassill through Instagram and asked if he would like to livestream with me one night," Houser said.
A senior from Johnstown High School, Houser has a passion for all things motorsports racing. He said he's followed NASCAR, as well as dirt racing, ever since he was a kid. "On a whim, I sent a message to Cassill, who races in the NASCAR Xfinity Series and the NASCAR Cup Series, and he honored my request. I couldn't believe it," said Houser. He then set up a time to interview Cassill, which he did from the comfort of his own bedroom in his south Johnstown home. Houser said his parents, also racing fans, were listening to the interview with their ears pressed against his bedroom door. He said the Instagram livestream lasted about 30 minutes and gained roughly 150 viewers.
One of those viewers happened to be someone from Dirt Track Digest, an online source for news on the dirt racing scene in the northeast.
"Dirt Track Digest picked up on my interview with Landon and liked it so much they offered me an internship," Houser said. His first gig for Dirt Track Digest was conducting post-race interviews at Fonda Speedway. That led to Houser being asked to announce the undercard races at Fonda. Soon after, Houser was asked to announce races at Glen Ridge Motorsports Park in Fultonville. Eventually, he was asked to be a fill-in announcer for the Supercross dirt bike races at Royal Mountain in Caroga Lake.
Houser said he couldn't believe how things just took off after his livestream. He said he's always had the gift of gab, but admits that he never had the technical skills to go along with it. He remembers not being able to effectively hook up audio or recording equipment without assistance. "I always had to have other people help me with the technical stuff, but I made sure I took good mental notes to get me by when I was working," he said.
Insert HFM BOCES. Houser remembers getting an email when he was a sophomore in high school regarding a virtual open house being conducted by HFM BOCES Career and Technical Education Principal Michael DiMezza. He decided to attend the virtual event and listen to Principal DiMezza's presentation regarding all the programs offered at the Career and Technical Center. After the presentation, Houser decided to join the Digital Multimedia and Communications program to sharpen his abilities and learn new skills to set him on the path for future success.
Houser, who was diagnosed with Autism Spectrum Disorder as a child, says he loves the hands-on atmosphere of the program. He also says that being at the HFM Career and Technical Center gives him the opportunity to do what he loves. "Having autism, I have trouble focusing in a standard classroom for any length of time. The CTC is my escape and lets me be creative and have fun, even if it's just for a couple hours a day," he said. He credits instructors Andy Huth (retired) and Phil Schuyler for being influential in his education. When asked what advice he would offer to prospective students, Houser said "You should really consider coming here. There's something for everyone."
After graduation from Johnstown High School, Houser plans to enroll in classes at Fulton-Montgomery Community College and would like to further his education at SUNY Oswego in their Communications Studies program. However, if he were fortunate enough to be offered a job announcing NASCAR races anytime soon, he says his plans for completing college may have to be put on hold for a while.
In his free time, he can be seen at many sporting events around Johnstown snapping photos. Recently, he was asked to photograph a local automobile auction and memorabilia show. He estimates nearly 1,000 people attended the show over the course of a weekend. He's also an active member of the yearbook committee at Johnstown High School and he loves to downhill ski at Royal Mountain in the winter.
As for his goals of starting a podcast, Houser is using the skills he's gained from the Digital Multimedia program at HFM to produce 'Out of the Fast Lane', a show all about motorsports racing which he started last fall and can be found on YouTube. "I was able to get my show started because of the skills I've acquired at the CTC," Houser said.
The Career and Technical Center at HFM BOCES offers 16 career programs to local high school juniors and seniors. For more information, please visit www.hfmboces.org/cte or call 518-736-4330.