In the local area and beyond, you can find graduates of the HFM Career and Technical Center working in just about every industry and career field. CTE Alumni Spotlight will introduce you to some of our many graduates highlighting the pathways their education and training helped make possible.
Meet CTE alumni Azia Aldi
A 2020 Amsterdam High School graduate, who completed the Veterinary & Animal Science program at CTE, Azia is now working as a veterinary assistant and is also continuing her education pursuing a bachelor's degree to advance her career working with animals.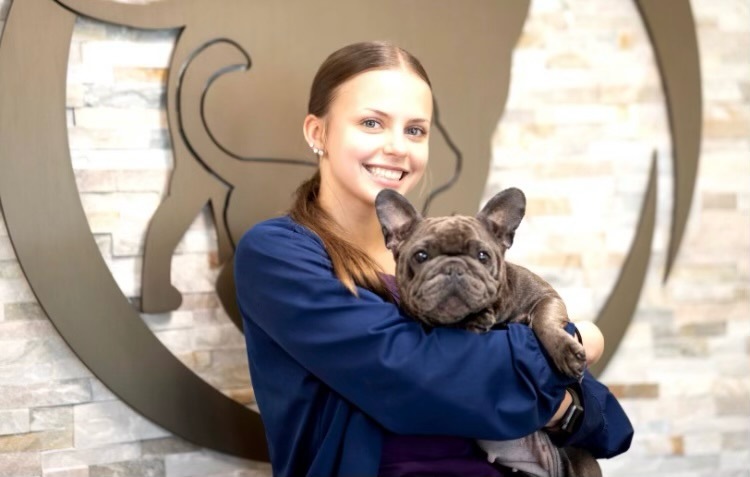 Azia is currently enrolled at the State University of New York at Delhi pursuing a bachelor's with a concentration in Veterinary Science Technology. When not attending classes, she works as a veterinary assistant at the Dove Creek Animal Hospital in Amsterdam and Glove Cities Veterinary Hospital in Gloversville.
Azia said the HFM Career and Technical Center is what introduced her to the world of veterinary medicine.
"I went into the program unsure of what I wanted to do for a career but my love and passion for veterinary science grew very quickly," she said. "This program not only helped me establish what career path is best for me, but also gave me a great base before heading into college."
As she works toward her bachelor's, she says she hopes to become a Licensed Veterinary Technician and then go on to earn a master's degree in education. She says hopefully she can become a teacher in a Veterinary Science program like the one that taught her so much at HFM.
Azia wants current students to know that there's nothing wrong with changing your goals until you feel confident with what you've chosen. She also says that hard work pays off.
"Take advantage of the amazing staff and opportunities around you. You're always doing better than you think you are. Continue to work hard and be great," Azia said. "I also want to give a special thank you to Mrs. Tuppen, Mrs. Zarecki, Mr. Boshart, and Ms. Subik for giving me so much knowledge and making BOCES a great environment to be in. My goals wouldn't be what they are without all of you."