Jeanne Halloran
SPECIAL EDUCATION
Mrs. Halloran received her bachelor's degree in elementary education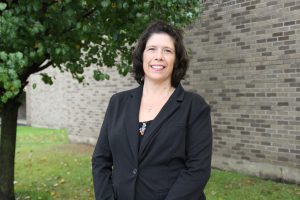 from SUNY Plattsburgh and her master's in special education from the University of Idaho.
Ms. Halloran worked in an elementary classroom for four years in Gloversville, before transitioning to teaching special education at the high school level in Schenectady and Johnstown, where she taught social studies and language arts.
In her own words
From what do you draw inspiration in your teaching career?
I draw inspiration from my innate motivation to help other people and see them succeed. I love to see the moment when a student understands a concept or is able to work through a process step by step to complete a final piece. It is also very inspiring to see the many students I have had throughout the years become successful in their lives and careers.
Why did you choose teaching, and what do you enjoy most about it?
I chose teaching because I love to learn and love to pass it on to others. I am constantly seeking to learn new things and to broaden my horizons, which contributes to a well-rounded, happy and successful life. What I enjoy most about teaching is working with the students — walking alongside them in the journey as they grow into young adults.
Why teach at PTECH?
I chose to teach at PTECH because I love the nontraditional project-based, career-oriented style of teaching and learning. Not all students learn in a traditional way, but they flourish when given the opportunity to maximize their talents and interests in a cross-curricular setting that gives them social, emotional, academic and real-world experience.
What are some of your interests outside of work?
Some of my interests outside of work are spending time with my large family, reading, going to the gym, running, being a fan at sporting events, traveling and volunteering.