Robotics and Engineering Technology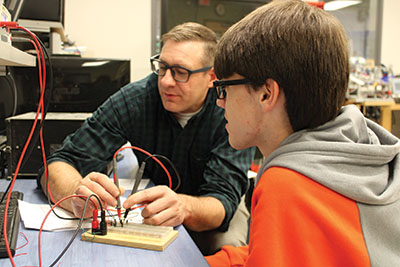 This rigorous program is a collaborative partnership with HFM BOCES, Fulton-Montgomery Community College (FMCC), and the National Science Foundation to create career opportunities for students in the field of robotics and engineering technology. Students will receive STEM (Science, Technology, Engineering, and Mathematics) instruction focusing on career exploration in current and emerging technologies. Students will also apply college-level Algebra, Physics, and Engineering principles to develop systematic approaches to problem-solving and critical thinking skills.
Course Content
During the course of this innovative "2+1" program, students will complete their two-year HFM BOCES Career and Tech program while accumulating 25 college credits, and then be prepared to complete their associate degree in Electrical Technology at FMCC in one additional year.
The credits accumulated at HFM would be at no cost to the students when they continue to FMCC (articulated credits). Students who choose to enroll at a different college may still earn college credits, but would be individually responsible for the tuition cost of those credits.
Students enrolled in this program will utilize FMCC's Center for Engineering and Technology laboratories, including the chip fabrication clean room, robotics lab, and electronics facility.