Cybersecurity & Computer Technology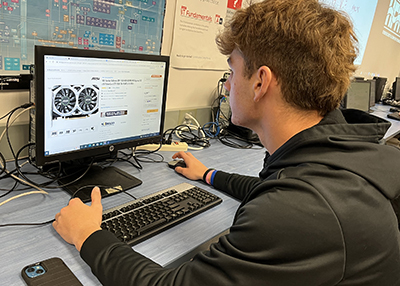 HFM's Cybersecurity & Computer Technology program includes coursework in the following areas: Cybersecurity, Information Technology (IT) Essentials, and the CISCO Certified Entry Networking Technician (CCENT) curriculum. In addition to the main coursework, there isalso introductory curriculum in computer programming.
Cybersecurity
During the two-year Cybersecurity & Computer Technology program, students learn the principles of Cybersecurity through completion of two courses: Introduction to Cybersecurity 2.1 and Cybersecurity Essentials. Students complete these courses simultaneously with the IT Essentials and CISCO courses.
Year 1 (Junior Year): Cybersecurity 2.1 & IT Essentials
Introduction to Cybersecurity 2.1 explores the field of cybersecurity, specifically the importance of cybersecurity, data confidentiality, best practices for internet and social media safety, and potential career opportunities in this growing field.
IT Essentials (ITE) introduces students to the fundamentals of computer hardware and software, mobile devices, security and networking concepts, and the responsibilities of an IT professional. The course also covers mobile devices, Linux, and client side virtualization, as well as expanded information about Microsoft Windows operating systems, security, networking, and troubleshooting. The course is designed to teach the Comp TIA A+ competencies, which is the industry standard for establishing an IT career.
Comp TIA A+ is the preferred qualifying credential for technical support and IT operational roles. It is about much more than PC repair. Coursework leading to the credential prepares students to:
be better prepared to troubleshoot and problem solve
understand a wide variety of issues ranging from networking and operating systems to mobile devices and security
have the ability to connect users to the data they need regardless of the devices being used
Elements of Course Content:
Certification and Careers ITE 6.0 curriculum prepares students for the Comp TIA A+ certification exams 220-901 and 220-902.
CompTIA A+ 220-901 covers the fundamentals of computer technology, installation and configuration of PCs, laptops and related hardware, and basic networking.
CompTIA A+ 220-902 covers the skills required to install and configure PC operating systems, as well as configuring common features such as network connectivity and email for Android and Apple iOS mobile operating systems.
IT Essentials course information: View the CISCO course information online
A+ Certification information: View the course information online
Year 2 (Senior Year): Cybersecurity Essentials & CISCO Certified Entry Networking Technician
Cybersecurity Essentials covers foundational knowledge in all aspects of security in the cyberworld, including information security, systems security, network security, mobile security, physical security, ethics, and law. It builds students' skills in related technologies, procedures, defense, and mitigation techniques used in protecting businesses.
CISCO Certified Entry Networking Technician (CCENT) certification validates that a candidate has the skills required for an entry-level network support position, which is the starting point for many successful careers in networking. CCENT certified professionals have the knowledge and skill to install, operate, and troubleshoot a small enterprise branch network, including a basic network. This certification opens doors to a career in networking and demonstrates that you have what it takes to manage a small, enterprise branch network. CCENT certification is also your first step toward CCNA certification and will help you stand out from the crowd in entry-level positions.
Elements of Course Content:
The two networking courses taught are part of the Cisco Certified Network Associate curriculum. These are the first two course in a series of four.
CCNA R&S- Introduction to Networks
CCNA R&S – Routing and Switching Essentials
The CCENT coursework prepares students for CCENT certification, which requires a single comprehensive exam. View additional information on the CISCO website.
High School Credit Earned
Students earn one (1) academic credit for applied mathematics through integrated instruction.