Culinary Arts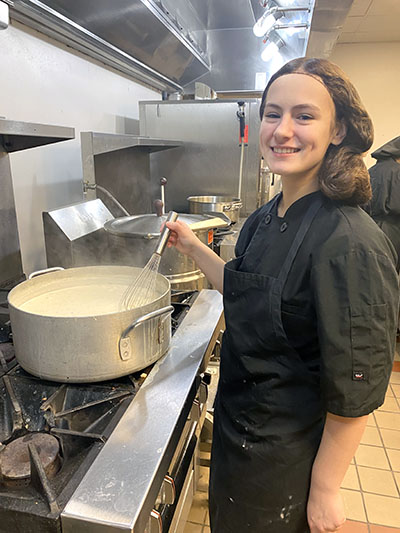 HFM's Culinary Arts is a two-year program that prepares students for careers in the hospitality industry and provides a solid foundation for students interested in continuing related college studies.
Students in this course will have the opportunity to study various units such as: baking and pastry, commercial food preparation, front end service, fine dining, restaurant operations, and catering.
The Culinary Arts program is aligned with the National Restaurant Association's Pro Start curriculum. In addition, students gain hands on experience in a state of the art kitchen and engage in work-based learning and leadership by catering special events, luncheons, dinners and completing an internship experience at a local restaurant, bakery, hotel or food service facility at the end of their senior year.
Course Objectives:
Learn and effectively practice basic and advanced technical skills in food preparation and food service.
Understand the principals of food identification, nutrition and food composition.
Gain experience in the proper use and maintenance of professional food service equipment.
Develop professionalism skills necessary for working successfully in the food service industry.
Assist students for the successful transition to employment, college or the military.
Elements of Course Content:
Meat, Poultry, Seafood Preparation
Fruits and Vegetables
Potatoes, Starches and Grains
Desserts and Baked Goods
Equipment and Cooking Techniques
Nutrition
Global Cuisines
Management Essentials
Food Safety and Sanitation
Customer Service/Table Service