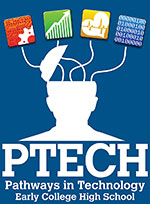 FEB. 25, 2016 – Second-year PTECH students earlier this month presented their solutions for medical oxygen tubing issues, including their own innovative designs, during a trade show at the school.
The students had been learning about illnesses that affect the lungs and were tasked with coming up with better ways to deliver treatments to patients who use oxygen therapy.
Organizations that use home oxygen therapy were invited to the trade show to see how the students' ideas might help their clients.
Tim Fancher and Jeff Persch, representatives from Lincare, a durable medical equipment company with an office in Gloversville, attended the event to see what the local students came up with.
"They came up with some really good ideas," Fancher said. "The tough thing is cost effectiveness."
Some of the students' ideas included installing cable-type outlets in rooms throughout patient's home where they could connect to oxygen tanks; using a magnetized track system on a ceiling, so patients can move freely about their homes; and offering ways to personalize clear tubing to make it more kid-friendly.