Kasey Mang
Teacher Aide
What is your role at Ag PTECH?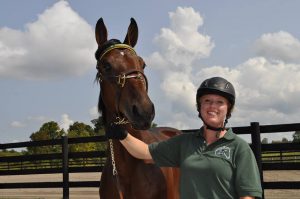 I am a teacher aide that primarily goes to SUNY Cobleskill to work with the juniors and seniors.
Tell us a little about your background.
I grew up on a small dairy farm and look lessons riding horses when I was in elementary and middle school. I have always loved working with horses and chose to pursue a career working with them. From 2014-2018, I was enrolled at SUNY Morrisville studying Equine Science with a specialization in breeding. I was able to gain experience in so many areas during my time at Morrisville. When I got back from my internship, I turned to substitute teaching until I could find a horse job that I liked. Well, a few months turned into a whole school year, and I realized that I loved teaching. I am currently enrolled in a master's program to be an Agricultural Education teacher.
What inspired you to work in this field?
My mother has been a teacher for almost 30 years, and I have always admired what she does. It wasn't until I was a teaching assistant for freshmen riding labs at college that I started to realize that I enjoyed helping people learn and figure things out. Looking back, I always liked helping students or underclassmen figure out the way for whatever they had been struggling with to finally click. I guess that is what I find so rewarding as well — seeing the "aha" moment when things start to come together or helping students learn about things they are passionate about.
What are some of your interests outside of work?
Outside of work, I enjoy cooking, reading or playing video games. I also spend a lot of time with my family traveling to motocross races.
If you were able to talk to your 15-year-old self about life, careers and happiness, what advice would you give?
I would tell my 15-year-old self to keep being that responsible, driven kid. It really allowed me to stay on top of things while in high school and college, manage multiple jobs, and figure out what I want to do with my life. Also, just because your plans for the future change, that isn't the end of the world. Just take a moment to re-evaluate and figure out what your next step would be. And be better about saving money.