Jenna Patterson
Business and Education Partnership Coordinator
What is your role at Ag PTECH?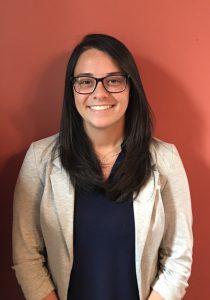 I am the Business and Education Partnership Coordinator at the Fulton Montgomery Regional Chamber of Commerce. The chamber and HFM BOCES work together to incorporate businesses and real-world experiences into the students learning. I work in the schools full time assisting the teachers on projects while bringing in guest speakers and guest judges. I also plan workplace tours, pathway panel discussions, mentoring, job shadows and internships for the students to help grow their professional skills.
Tell us about yourself.
I grew up in Gloversville and have lived there my entire life, besides the four years I was away attending college. During my time at Gloversville High School, I attended the Culinary Arts program for two years at HFM BOCES. I attained my degrees in Culinary Arts and Sports Entertainment Event Management at Johnson and Wales in Providence, RI. After graduation, I worked in the hospitality field at local casinos and restaurants.
What inspires you professionally?
The most rewarding aspect of my job is watching the students grow into young professionals and become successful in a career they are passionate about.
What are some of your interests outside of work?
I enjoy taking my dogs to the lake and going hiking. I'm a big foodie, so I love to explore new and different cuisines.
If you were able to talk to your 15-year-old self about life, careers and happiness, what advice would you give?
Take your time and enjoy the little things life has to offer.