State now requires meningitis vaccination in grades 7, 12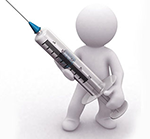 MAR. 29, 2016 – Students entering their senior year in Sept. 2016 should check with their physician to see if they are up to date with their immunizations. New York state now requires students entering seventh and 12th grades to be vaccinated against meningococcal disease.
The new requirement says that students need one dose of the meningococcal vaccine before seventh grade, and a total of two doses before 12th grade. The need and timing of the second dose depends on several factors.
If a student receives their first dose of the vaccine on or after their 16th birthday, a second dose before grade 12 is not needed. However, most children receive their first dose at a younger age and are ready for the booster by the time they reach grade 12.
Parents are urged to talk with their children's doctor about the vaccine before the start of the 2016-17 school year. The new requirements, signed into law by Gov. Andrew Cuomo in Oct. 2015, will not allow children to attend school if they are not up-to-date with their vaccinations.
Meningococcal disease is a severe bacterial infection that can lead to meningitis (inflammation of the lining covering the brain and spinal cord) and bloodstream infections such as septicemia. Symptoms of the disease include a high fever, headache, weakness and nausea, a stiff neck and a rash.
The disease can be treated with antibiotics; however, approximately 300 deaths each year are attributed to meningococcal disease. Those who contract the disease may experience permanent brain damage, hearing loss, kidney failure or chronic nervous system problems.
According to the Centers for Disease Control and Prevention, preteens, teens, and young adults are most susceptible to meningococcal disease, along with some infants with certain medical conditions. The CDC recommends that 11-18 year olds be vaccinated against the disease.
New York State Department of Health offers a fact sheet with more information about meningococcal disease.