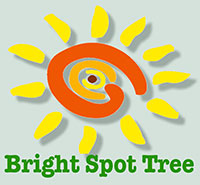 DEC. 9, 2015 – Adirondack Academy students are offering everyone a chance to add an ornament to the giant "Bright Spot Tree" in the corridor between their classrooms. The project returns for a second year to unite HFM BOCES students and staff with its three-fold purpose:
To recognize and honor those people, pets and organizations that are "Bright Spots" in the lives of others.
To raise funds to be donated to a social service organization. Each ornament costs the "giver" twenty-five cents.
To brighten the spirit of the entire school community during the holiday season.
The idea originated last year with Interim Principal Kathy Dougherty, whose friend who had suffered the untimely loss of her brother created the concept as a way to honor his memory as a "bright spot" in her life.
The plain green paper tree appears in early December, and fliers are now circulating throughout HFM BOCES. Every donation gets a paper ornament with a "bright spot" name that will be placed on the tree.
2014 Adirondack Academy students Kiana VanValkenburg and Esean Brown stand near the Bright Spot Tree.Last year, some lists contained only one or two names. Others contained 20 or more. But, every name had meaning, and students frequently stopped by the tree to read the names displayed, looking for the ornaments honoring those they requested as well as their own.
Hundreds of ornaments adorned the tree by the end of the season, raising more than $60.
The simplicity of the project and its message of caring and gratitude has meant a lot to many of the students and staff around the building, according to teacher Heather Hass, who is helping organize the Bright Spot Tree project this year.
Dougherty had introduced the Bright Spot Tree to every school organization she served since 2001.
"I found that the project carries a universal appeal. It is always beautiful, heart-warming, inspiring and never fails to spread a message of love and good cheer throughout the organization during the holiday season," Dougherty said.
To make a contribution to the 2015 Bright Spot Tree, download the form and deliver it with your donation to the Adirondack Academy office by Monday, Dec. 21, 2015.
All money raised from this program will be donated to a local service organization or used for an activity to be determined by the Adirondack Academy.